Facebook Gaming is growing: Here are the Top 10 Streamers of FB Gaming 2021
Facebook game streaming came to being in June 2018, and the service went live in 2019. Since then, the audience can watch their favourite streamers & their gameplay live on Facebook Gaming. Here are the Top 10 Streamers of FB Gaming 2021
People still don't know about Facebook gaming but it's booming in the live streaming area, and a few streamers are helping to grow Facebook Gaming more and more. Here are the top 10 creators of Facebook Gaming as of 2021. These streamers have made Facebook gaming an exciting platform, by playing competitively to entertaining both at the same time.
Top 10 Streamers of FB Gaming 2021
David Steinberg aka Stone Mountain 64
David Steinberg aka Stone Mountain (born May 22, 1992) has 3,123,658 Facebook followers, he is one of the most followed Facebook streamers. He created his name in honour of his first console, the Nintendo 64.

He launched his YouTube channel in 2011 and has been uploading gaming videos ever since. On Facebook, the streamer plays games such as Escape from Tarkov, Call of Duty: Modern Warfare, and Apex Legends. He is a partner on Facebook Gaming and Stone having a 404K following on Instagram.
---
Zack Lane aka ZLaner
Zack Lane aka ZLaner (December 23, 1997) has over 400,000 Facebook followers. ZLaner started streaming on Facebook Gaming in July 2018.
ZLaner gained popularity playing Fortnite and being competitive in Call Of Duty: Warzone, his recent collab with Dr Disrespect gave him a huge amount of fan following as well the duo plays together as Team Name Drippin In Heat.
---
---
Tim aka Darkness429
Tim or Timmeh aka Darkness429 has over 800,000 followers on Facebook. He plays First Person shooters and Battle Royal. He got popular on Twitch after having been there for four years.
He moved to Facebook Gaming in early 2018. Seven months after moving, he had already tripled his Twitch following on Facebook. He plays The Last of Us: Part II and Escape from Tarkov. Tim co-hosts the Spoilercast podcast along with Kmagic101 (Kevin) where his love for TV, movies, and especially all things Star Wars can shine through weekly.
---
Alodia Gosiengfiao
Alodia Gosiengfiao (March 9, 1988) this Filippino streamer wears several hats. She is a singer, pianist, model, and actress. She also co-hosts the show "Laugh Out Loud". She began to cosplay at 15 years old and is sometimes called as "Cosplay Queen of the Philippines."
Alodia moved to Facebook Gaming after streaming on Twitch for four years in the year 2018. Alodia plays Smash brothers, Overwatch and Mobile Legends. Alodia has over 7 million Facebook & 1.5 million Instagram followers.
---
Gina Darling
Gina Darling (July 25, 1989) is a model and an ex-gogo dancer. The YouTuber turned streamer has over 1.5 million followers on Facebook, where she has attained partner status.
Gina plays games like Call of Duty: Modern Warfare, and Final Fantasy VII, she has 552K followers on Instagram.
---
KingSlayer
KingSlayer started his career on Twitch but shifted to YouTube. The reason because Twitch did not favour the growth of popular games like Fortnite and Valorant.
He created the KingSlayer character, a man wearing a crown with war paint around his eyes.
Kingslayer has 450,806 followers on Facebook.
---
Corinna Kopf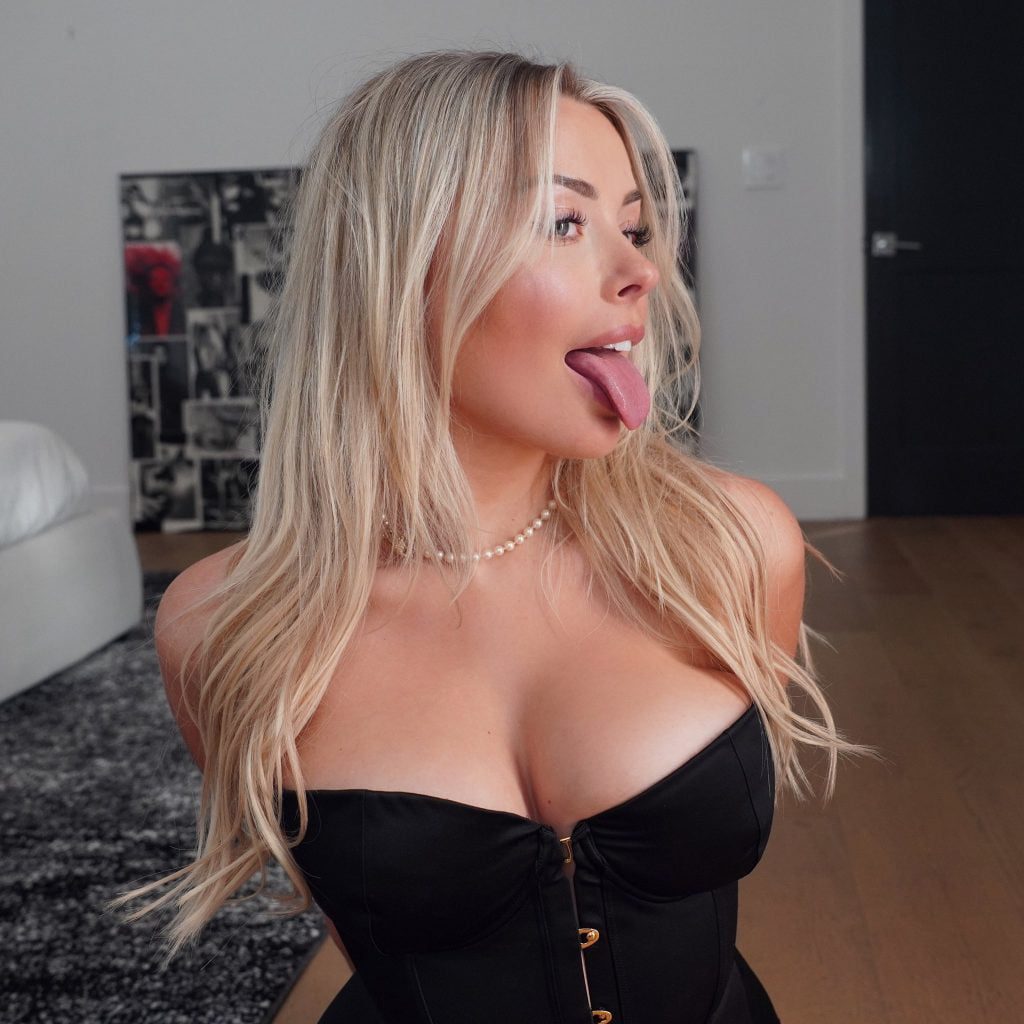 Corinna Kopf (1 December 1995) is an American Vlogger turned Streamer on Facebook gaming. Corinna also jumped to FB gaming from Twitch after she got banned there. She signed an exclusive deal with Facebook Gaming in December 2019 and was made a partner.
She frequently plays Fortnite and chats on her Facebook page. Corinna has 700,000 followers. She is also popular on Instagram and YouTube. Corinna plays frequently Fortnite, Minecraft or Just Chatting. Her net worth is $2 million as of 2021.
---
Kristine Santamena:
Kristine Santamena (January 1, 1991) is also one of the top ten Facebook gamers. She has over 1.9 million Facebook followers. She plays games like Mobile Legends, World War Z and Apex Legends.
Kristine has 289,000 subscribers on her YouTube channel, where she usually vlog during and travelling.
---
Rex Lisle aka Rexzilla
Rex Lisle aka Rexzilla is a Streamer for Team Tempo Storm. Season 1 PUBG Broadcaster Royale Finalist. An FPS-focused community with a passion for high octane gaming.
Come hang with the community and be a part of the action on stream. Rexzilla has 68K follower on Facebook gaming & 11.3K on Instagram.
---
---
Oolala
OoLaLa is an artist, streamer and professional gamer with Team Justus Pro. She started her streaming career on January 5 2015, She participated in the Ark – Survival of the Fittest: The Last Stand tournament alongside 229 other competitors.
The tournament took place on October 24, 2015. She mostly plays Titanfall, Battlefield 4, Battlefront, Tom Clancy's Rainbow Six: Siege & Call Of Duty.
---
Are we missing Your Favourite streamer? Do let us know by commenting below.