Top 10 Twitch Streamers: 2021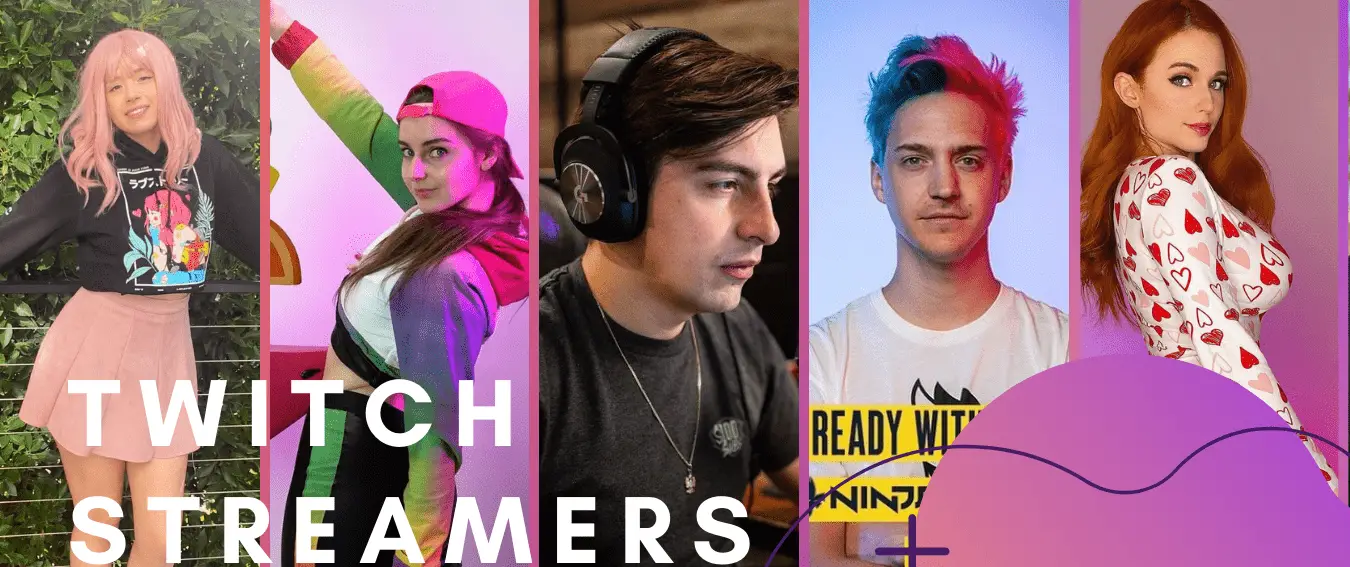 Twitch is an American video live streaming service operated by Twitch Interactive, a subsidiary of Amazon.com, Inc. Introduced in June 2011 as a spin-off of the general-interest streaming platform Justin. tv, the site primarily focuses on video game live streaming, including broadcasts of esports competitions, in addition to music broadcasts, creative content, and more recently, "in real life" streams. Content on the site can be viewed either live or via video on demand. Here are the Top 10 Twitch Streamers: 2021.
---
Top 10 Twitch Streamers: 2021
---
Ninja:
Richard Tyler Blevins aka Ninja (5 June 1991) is a professional gamer and streamer from Detroit Michigan, United States. He mostly streams his Fortnite game performances on Twitch. He is the most-watched Twitch streamer to date and has the highest number of followers (16.7million) on the Twitch platform.
Ninja also plays Battlefield V and Realm Royale. Ninja played for Cloud9, Renegades & Team liquid Luminosity Gaming.
He also collaborates with several brands like Revelation (real estate) and NZXT and features ads and promotions from these on his Twitch profile.
Shroud:
Michael Grzesiek aka Shroud (2 June 1994) is the top Twitch streamers. He is known for his FPS gaming skills and streaming his game performances of Call of Duty Black Ops 4.Shroud was an official professional Counterstrike Global Offensive player.
---
Shroud plays mostly every game, like Fortnite, Realm Royale, Lord of The Rings, Fallout 76 & Valorant. He streams for ~60 hours every week.
TSM-MYTH:
Ali Kabbani aka TSM MYTH (24 May 1999) is the third-highest (7 million) follower base on Twitch and he streams mostly his Fortnite gameplays.
TSM-MYTH has multiple brand partnerships— with brands like HTC, Logitech, and Geico and features those brands on his Twitch profile.
He streams now days games like Valorant & Fortnite Battle Royale.
TimTheTatman:
Timothy John Betar aka Timthetatman (8 April 1990) streams mostly every game and share it on his Twitch Channel. Tim is most popular for his Fortnite streams.
Tim is also sponsored by multiple brands like Monster Energy, Audio-Technica, Cyberpower PC, and Razer. Tim has the fourth most-watched Fortnite channel on Twitch and is one of the top Twitch streamers for Fortnite gameplay. Nowadays he regularly streams Call Of Duty: Warzone.
---
---
Dr Lupo:
Benjamin Lupo aka Dr Lupo (20 March 1987) is better known for his streams videos of Fortnite, Escape from Tarkovand, Fall Guys, Among Us & Call of Duty: Black Ops 4.
He is an active Twitch streamer spending 65-70 hours live every week. He has brand sponsorships from companies like Kings Coast and NZXT, which he features on his profile.
Syndicate:
Syndicate not only streams gaming videos, primarily of Call of Duty: Black Ops 4 but also hosts podcasts and talk shows.
Syndicate has one of the oldest channels on Twitch, streaming since the platform's inception in 2011, and continuous to see follower grow. He promotes his own clothing brand, SYNDICATE ORIGINAL, on his Twitch profile.
---
Pokimane:
Imane Anys aka Pokimane (14 May 1996) streamer posts a variety of gaming and other videos but is most popular for her Fortnite game videos. She has the fifth-most watched Twitch channel overall and the fifteenth-most watched Fortnite channel.
She has done brand promotions for brands like NZXT, HYPERX, and Mastercard on her profile.
LOSERFRUIT:
Kathleen Belsten aka LOSERFRUIT is known for their variety, but very few streamers succeed with a diverse library of content the way Loserfruit's done. She plays a lot of Overwatch, Fortnite and Witcher 3 on streams, but has plenty of vlog content, too.
Loserfruit also streams Creative content, including editing streams in which she edits while broadcasting.
---
AMOURANTH:
Kaitlyn Siragusa aka Amouranth is a Livestreamer, cosplayer, and model is a triple threat based in Houston, Texas. While still in high school, she began designing costumes and gained notoriety after she was discovered by the Houston Grand Opera and Houston Ballet.
She later began her own character company and has been featured on several local news stations. She frequently attends comic conventions to showcase her costumes, which have attracted the attention of over 3 million Instagram followers and 1.5 million Twitch subscribers.
LILYPICHU:
Lily Ki aka Lilypichu a close friend of Dota 2 streamer, Jacky "EternalEnVy" Mao, Lilypichu is a YouTube and Twitch star best known for her League of Legends broadcasts. Her channel includes helpful walkthroughs, and she often shares her affinity for Japanese and Korean culture in her videos.
While gaming is her focus, she also shares her favourite anime playlists on her Twitch channel, which currently boasts over 289320 subscribers.