Top 10 Female Fitness Influencers India on Instagram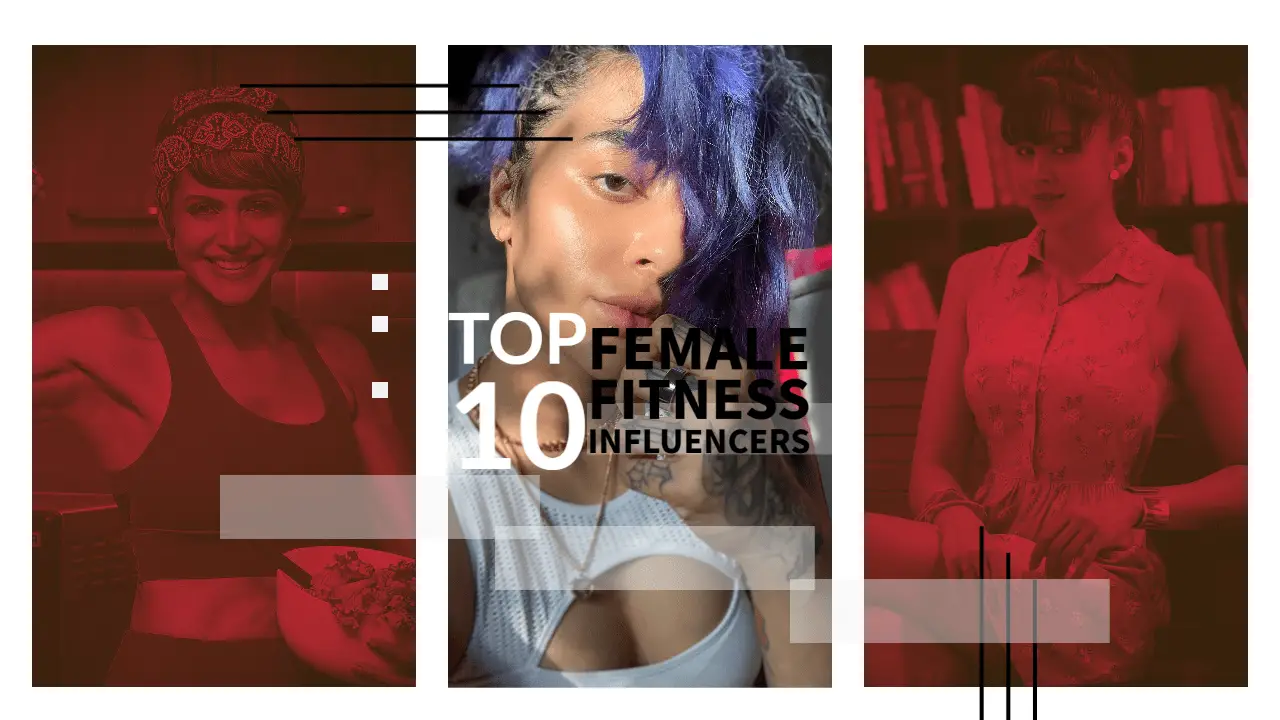 Leading a healthy lifestyle and staying fit are all the rage these days. It's become a major aspect of life for celebrities and regular citizens alike.
So much so that people actively seek out advice, knowledge, and even full training regimens from those who are experts on the subject. In this article, we will discuss the top 10 female fitness influencers India who are carving their niche on Instagram as go-to experts for fitness-related content.
As we move further into the 21st-century women increasingly break stereotypes across various facets of life, no less in the space of fitness consulting. Female fitness influencers have gone on to gather vast followings through a combination of their hard work, perseverance, and charm.
Shilpa Shetty Kundra
An actress, model, producer, and businesswoman, Shilpa Shetty does not need any introduction. She added another feather to her cap by becoming the most popular fitness model in the country.
With 27 Million followers, her Instagram feed is a perfect mix of astounding fitness content and diet tips.
Shilpa is an avid practitioner of Yoga and also constantly undertakes meticulous strength exercises to keep herself fit. She runs her Yoga app named Simple Soulful where she encourages people to stay fit by teaching meditation, asanas, and other fitness tips.
Mandira Bedi
From being an actor to an anchor to a model to a budding entrepreneur, Mandira is a popular figure in Indian entertainment who is also renowned as a fitness enthusiast.
Her popularity can also be attributed to her strong passion for cricket. For which she was asked to make multiple appearances as a TV host for various competitions including the IPL and ICC Cricket World Cups.
Mandira has always been known as a fitness freak who loves running, swimming, and exercising, with her Instagram frequently featuring fitness-related content.
Her sporty nature combined with regular social media appearances makes her one of the most followed fitness influencers in the country.
Gurbani Judge (VJ Bani)
Risen from the reality TV fame of the popular Indian show Roadies to becoming one of the most popular female fitness influencers in India, Bani has undoubtedly come a long way. She breaks gender stereotypes cast on women, especially around female body-building.
Highly motivated and focussed on what she does, Bani J boasts 1.5 million followers on Instagram. Her profile is an homage to hard work and perseverance in pursuit of fitness.
Bani encourages women to express themselves without fear or shame, especially through fitness and health.
Sapna Vyas
A weight management specialist and health coach, Sapna Vyas is a full-fledged fitness consultant with a serious dedication to all things health.
She devoted a great deal of time towards research into workouts and nutrition and decided to share her learnings for the betterment of everyone health.
Her Instagram account, where she has around 1.6 million followers, is a wonderfully motivational place to start for these beginning their journey of health and wellness.
Shweta Rathore
Shwetha started as an engineering graduate. But she broke out of the mold in pursuit of her true passion; fitness. A story of following your dreams despite uncertainty, Shweta's journey is an inspiration for us all.
Her hard work and dedication helped her win the title of International Physique Athlete Miss World. She also created Fitness Forever to provide people, especially girls, a platform to guide those who wish to become professional athletes.
Her 608k+ followers enjoy her frequently posted content, particularly for its motivational nature.
Natasha Noel
Natasha Noel is among those fitness influencers in India who'll convince you that your body is your temple. She is known for spreading positive vibes and fitness inspiration throughout her content.
She firmly believes that only by putting in your best can you get the right results. Her 340k Instagram followers certainly take her word for it.
Radhika Bose
Radhika Bose, known as Yogasini on Instagram, influences over 583k people on Instagram with her regular yoga routine and spreads happiness through the discipline of yoga.
Every month she conducts a fitness challenge to motivate her fans and adopt a healthier lifestyle.
Her Instagram handle also comprises several posts on lifestyle and fashion. She has also been featured in Delhi Times and Elle Fashion Magazine for her hard work and achievements.
Yasmin Karachiwala
Working as a celebrity fitness trainer for almost 22 years, Yasmin is the one behind the toned bodies of most Bollywood celebrities.
Introducing Pilates to the Indian crowd, Yasmin opened the first Pilates studio in the country which is also hugely popular among b-town celebs.
She posts regularly on Instagram and focuses her content to provide fitness and exercise tips specialized for various parts of the body.
She lives by the mantra of staying fit and keeping a calm mind for a happier and stress-free lifestyle.
Ankita Singh
Being crowned as Miss Karnataka and Miss India, Ankita Singh is among the most popular fitness influencers in India.
She knows how to keep her body toned and flaunt it at the same time. Ankita'severy post highlights her deep love for fitness. 
She regularly shares her fitness notes with her 287k Instagram followers to help them to lead a healthier lifestyle.
Anupriya Kapur
Anupriya Instagram account is filled with heart-warming content that encourages her 237k followers to take responsibility for their mental and physical well-being.
She has actively participated in several marathons and ultra runs approximately 100 kilometers a month. She firmly believes that running is a source of confidence, positivity, and growth for her which keeps her encouraged.
Conclusion
Nowadays social media, especially Instagram, greatly influences people's lifestyles. Be it a popular diet, yoga routine, or hardcore exercise regimen, we tend to take the advice of influencers on a variety of fitness-related things.
And why not? If they are experts who have experience in the subject, it's good to take advice for bettering ourselves.
Fitness has always been an intrinsic part of daily life, that is when people have enough time to devote to themselves. The above-mentioned female fitness influencers in India are great idols to follow to stay motivated towards healthier, more wholesome lifestyles.