Call of Duty: Black Ops Cold War, Warzone, "The Haunting Scream" Roadmap Revealed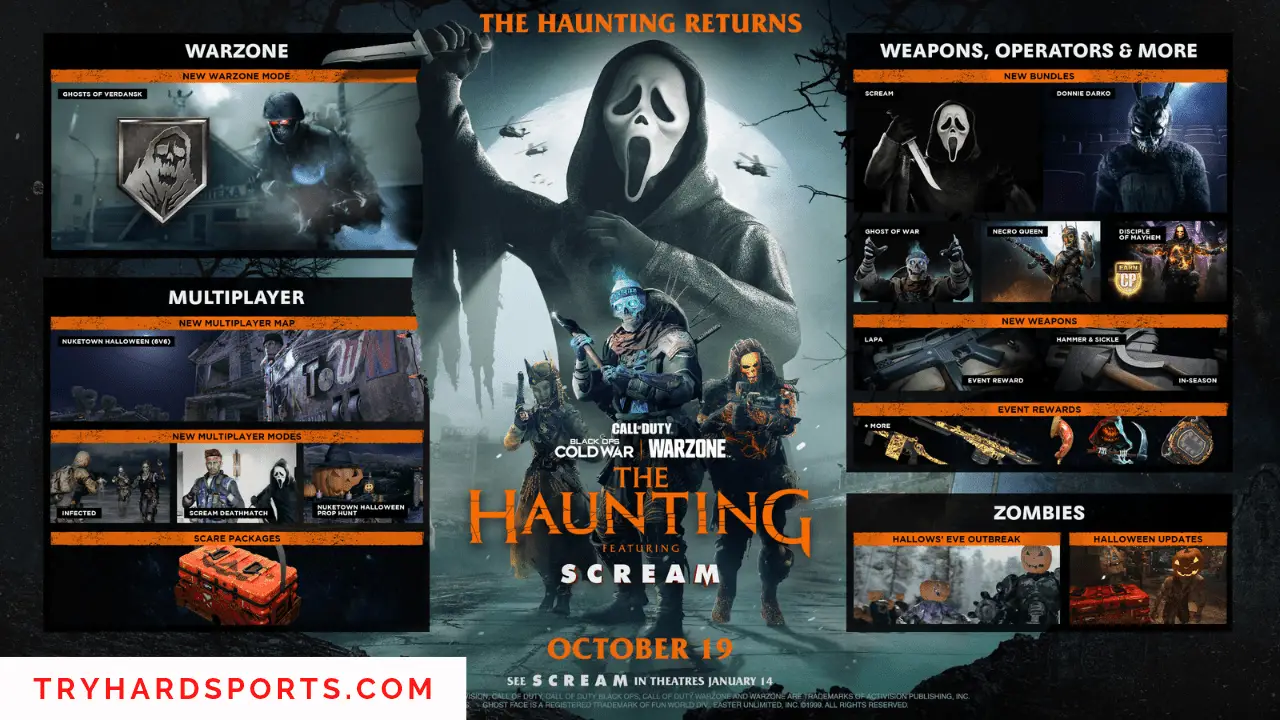 Activision has revealed the roadmap for Call of Duty: Black Ops Cold War, Warzone The Haunting Scream, which will be the final season of Black Ops Cold War. With new multiplayer maps, new Zombies experience, a Halloween event, and more.
In season 6, Call of Duty: Black Ops Cold War gets three multiplayer maps including Deprogram (6v6), Amerika (6v6), and Gluboko (2v2, 3v3). The game also gets two new Operators, Alex Mason and Fuze, as well as five weapons including .410 Ironhide shotgun, Grav assault rifle, LAPA SMG, and Hammer and Sickle melee weapons.
Call of Duty: Black Ops Cold War season 6 brings a massive update for Zombies. The new season concludes the Zombies storyline with the launch of Forsaken map. Forsaken is located at a secret test site in the U.S.S.R. that will be used to open the largest Dark Aether Portal yet. The map will feature the final battle between the Omega Group and Requiem. The game also brings back the PhD Slider perk from Black Ops 4, which allows players to trigger an explosion after sliding. Along these, the Zombies mode is getting a new Wonder Weapon called the Chrysalax, as well as two new support weapons, ARC-XD and Hand Cannon.
Call of Duty: Warzone gets new points of interest in season 6 as multiple explosions have changed the landscape of Verdansk. The original Gulag is making a comeback in season 6, which will replace the current Gulag.
The Regiments feature of Warzone will be frozen as Activision prepares to transition to a new Clan system. From October 6, players will be able to only view their Regiment Roster and inspect other players. Warzone players won't be able to create, switch, or invite other players to a Regiment. Activision will share more details about the new Clan system during season 6.